Företag:
Blitz mnf
Branch:
Crafts and Design
Blitz mnf are located in Pinetown Durban, they create crafts in metal and are launching a new e-commerce page and product range.
Launch, Branding and E-Commerce


The logotype and branding are important part of the company identity.
We wanted a strong, all round brand that is flexible depending on the companies development.
The name Blitz Manufacturing was shorted down.
New property sign for the venue.
Refreshed logotype goes on top of the current signpost.
Inside shop signs done on Banners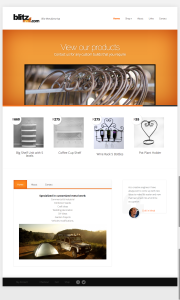 Their new e-commerce site is displaying the products of Blitz mnf.
Kevii took the main photographs for them, but as they produce a big range of products we only organised for some of their best-sellers to be displayed in the initial page.
 Solution:
Logotype
Photography
   portrait
   commercial
Design for:
   print media
   online media
Varumärke
   product branding
   profile clothing
Campaign
  campaign
Do you want to develop your business?
Kevii see the big picture, at the same time we can work on the details!
Project management and consulting.